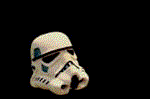 Sandtrooper. Well a Sandtrooper is almost the same as a stormtrooper but there are differences.

Sandtroopers have a different ab place and knee plate, they do not have the drop boxes by legs, do not have the thermal detonator on back, they also have flat green lenses in helmet and a shoulder poldron. They are also usualy dirtier than the clean Stormtroopers.

Some have a backpack and larger rifle as well.

My Sandtrooper started as my original Stormtrooper costume. And after YEARS of use and abouse I converted it to sandtrooper in 2005.


| | | | | |
| --- | --- | --- | --- | --- |
| | | | | |
| With Peter Mayhew (Chewie) Ray Park (Darth Maul) Danial Logan (Young Boba Fett) and Kenny Baker (R2D2) | | | | |
| | | | | |
| | | | | |
| | | | | |
| | | | | |