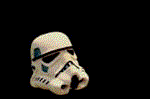 SAN ANGELES POLICE OFFICER (From movie "Demolition Man")
The Jacket, Shirt, pants belt and hat for this costume are ORIGINAL SCREEN USED items. See pics below.
The shirt was the one worn by Benjamin Bratt. Can not identify who's jacket or pants these are.
I need to find or make boots and the badge
Find Sun glasses and gloves
Make Baton, belt, communicator and hat








JACKET
SHIRT
PANTS
BATON / BELT / COMMUNICATOR
HAT / BOOTS/ gloves
Front
Front
Front
Base level for communicator
Back
Back
Back
Second level for communicator
Right Sleeve
Inside
Inner Thigh
Making mold of communicator
waist
Chest
Pocket
First cast - flat
Right Shoulder
right sleeve
Side Seam
2nd cast - Added curve, cleaned up a bit
Lapel Pin
Left Sholder
Warner Brothers
ID label
3rd cast A bit more clean up and "speaker cone" added
Right Sleeve Detail
Chest Embroidery
Starting paint of
Communicator
Button
Right Shoulder
Almost done
Warner Brothers
ID label
Collar
Warner Brothers
ID label
BADGE
Almost done
Collar Patches!
Above are photos of an ORIGINAL screen used communicator and the one I made. Keep in mind, I made mine before having a original to look at for detail and size comparison.